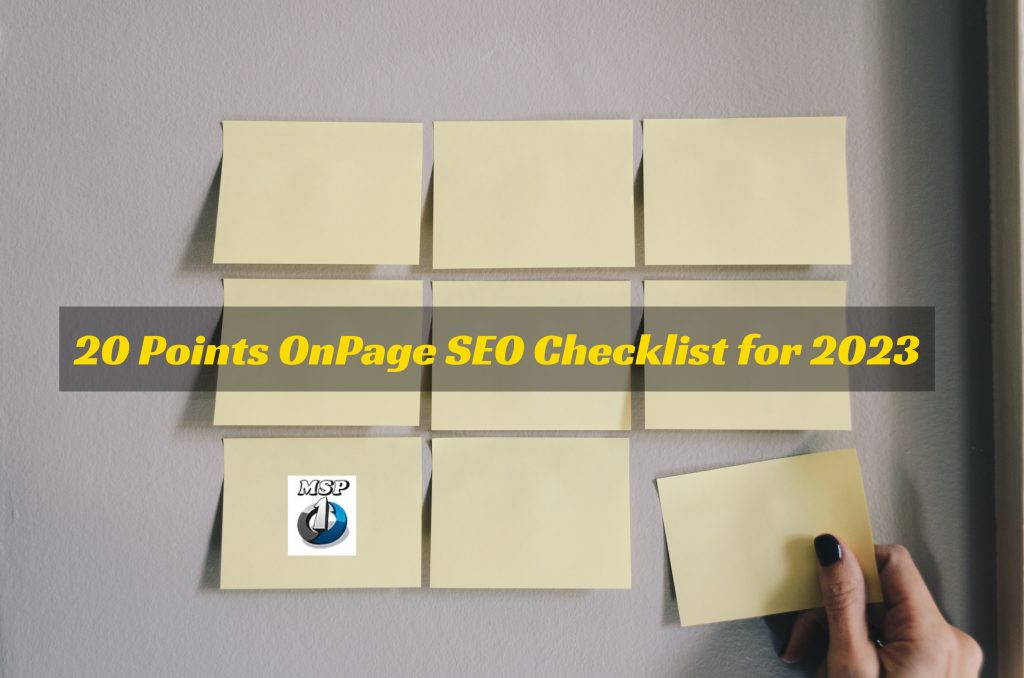 OnPage SEO stands at the very beginning of Search Engine Optimization (SEO). Under the term OnPage SEO one understands all SEO measures, which are accomplished on the website. In contrast to this is stands OffPage SEO, which (essentially) means link building.
There are many aspects that can be optimized on one's own website. Therefore, we have summarized them in a 20 POINT ONPAGE SEO CHECKLIST for 2023, which you can find and download below as a PDF for free and without submitting your email 😉

Click here to read this article in German!

Before doing OnPage SEO, however, you should perform a comprehensive keyword research to identify relevant keywords that are really searched for in Google AND for which Google Page 1 rankings are realistic at all (competitor analysis).
Conduct Thorough Keyword Research
The most relevant keywords for your target audience are the terms that potential customers are using to search for information, products, or services like yours. By incorporating these keywords strategically into your content, you'll increase your website's chances of ranking higher in search engine results pages (SERPs). One of the best tools for keyword research is still the Google Keyword Planner.

RELATED ARTICLE: 4-Hour Keyword Research: Insider Tips to Find Top Keywords in 2023

When target keywords are identified, it's time to take a look at the
20-POINT ONPAGE SEO CHECKLIST for 2023:
1) Identify and eliminate technical errors (so called validation errors) that can prevent Google from properly capturing page content. You can check your site for CSS and HTML errors on this site and this site.
2) Content. Create individual landing pages for the keywords you want to rank for (-> keyword research). Each landing page (as well as the homepage) should have content in the form of text with a minimum length of 600-800 words. It goes without saying that the text should be of high quality. The goal should be articles with a length of more than 2000 words. The text does not necessarily have to be fully visible to the visitor – it can also be fold-out, such as on our homepage. However, avoid keyword stuffing. If possible, the keywords should be found in the first sentences of the texts. Write the keywords a few times in bold and italics. Also use synonyms. Ensure that your text is informative, well-structured, and easy to understand. Mixing short sentences with longer, more complex ones will enhance your content's burstiness and make it more appealing to both humans and search engines alike.
3) Check the heading tags. Heading tags, ranging from H1 to H6, not only make your content more readable but also signal its hierarchy to search engines. Put the page title (with your target keyword) in the H1 tag. (In WordPress, this is done automatically.) You should use a maximum of one H1 tag per page. Your H2 to H6 tags should include secondary keywords and variations.
4) Check the keyword density of your texts. You can use this free tool for this purpose, for example. Here is why it is still important:
Pertinence and contextual association: By incorporating keywords with a well-judged frequency, the content maintains its relevance and contextual ties to users' search inquiries. As a result, search engines can better grasp your content's primary focus, thereby enhancing its visibility in related search results.
User-centric experiences: Achieving equilibrium in keyword density fosters superior experiences for users. Resorting to keyword overabundance, or "keyword stuffing," renders content arduous to read and unnatural-sounding. Conversely, scanty keyword usage can leave users struggling to locate the sought-after information.
Search engine algorithm evolution: Cutting-edge search engines, such as Google, now favor top-notch, value-laden content over the mere prominence of keywords. Nevertheless, adhering to an ideal keyword density ensures search engine algorithms continue to acknowledge your content's relevance to particular search queries.
Worth highlighting is the contemporary emphasis on SEO best practices that prioritize crafting enlightening, captivating content seamlessly integrating keywords, rather than fixating on keyword density alone. This strategy paves the way for elevated search engine rankings and gratifying user experiences.
5) Check the meta descriptions of all important pages. The meta description is an internal description of the content of a page and is usually displayed in Google search results below the page title. It should be a maximum of 160 characters long and should entice the reader to visit your page. An intriguing meta description can entice users to click on your link, boosting your click-through rate (CTR) and improving your SERP ranking (user signals!). Each sub-page should have its own meta description. Let ChatGPT write your meta descriptions to save time 😉
6) Check your website for duplicate content. For example, here. Use the canonical tag to avoid duplicate content issues.
7) Check the internal linking of your website. All important pages should be linked to each other. Check the anchor texts of the individual links: These should contain keywords that are relevant, but also appropriate to the topic of the target page. Internal linking helps search engines crawl and index your site more effectively, while also guiding users to other relevant content.
8) Link to other popular websites (so called trust links) at least 1-2 times in each longer article on your website using the follow-attribute. External linking to authoritative sources can boost your website's credibility and improve its overall SEO performance. Be strategic with your linking, maintaining a natural balance and avoiding excessive or irrelevant links.
9) Add images, screenshots, and if possible and appropriate, videos and (info) graphics to your articles.
10) Optimize Your Images. Use descriptive file names, ALT tags of the images should include your target keywords. Images can contribute to your website's SEO by providing context and improving user experience. Compress your images to reduce loading time without compromising quality.
11) Create search engine friendly URLs (relevant keywords instead of numbers in URLs). Use hyphens instead of underscores as word separators in URLs. Avoid using generic terms or excessively long URLs.
12) Insert Call-To-Actions (CTA). CTAs are crucial on websites for several reasons:
Boost user interaction: Call-to-action elements foster user participation on your site, steering them towards distinct objectives like registering for email updates, acquiring materials, or finalizing purchases. Engaging users with CTAs amplifies their experience and raises the probability of accomplishing sought-after outcomes.
Cultivate leads and transform visitors: Skillfully designed CTAs can transform occasional guests into valuable leads, clients, or followers. By offering an unmistakable and enticing invitation, the likelihood of users performing the desired action escalates, potentially contributing to heightened revenue and business expansion.
Augment site navigation: CTAs may function as valuable navigational aids, channeling users towards vital pages, items, or offerings. This simplifies the process for guests to locate pertinent data or finalize a necessary task, thereby elevating the overall site's user-friendliness.
Assess site efficacy: Monitoring click-through and conversion rates of your CTAs allows for an examination of your website's content, design, and promotional tactics' efficiency. The resulting data can pinpoint areas requiring enhancement and facilitate site optimization for superior outcomes.
Instill prompt action: CTAs have the potential to create a sense of urgency within your visitors, pushing them to take swift action. Time-sensitive offers, markdowns, or deadlines can inspire users to act without delay, culminating in elevated conversion rates.
Bolster brand messaging: An expertly crafted CTA can reinforce your brand's message and persona, guaranteeing a harmonious and uniform experience for guests on your site. This fosters trust, credibility, and brand awareness among your target audience.
13) Add social share buttons to your blog articles and other important pages so that readers can share the content quickly and easily. "Social signals" boost Google's trust in a website.
14) Improve loading time of your website. You can find out the load time of your website here, for example.
15) Create (for example here) and upload the XML sitemap to your root domain.
16) Create a robots.txt file. You can find out how here, for example.
17) Make your website fit for mobile devices. You can perform a corresponding test here, for example.
18) Leverage Schema Markup. Schema markup is a form of structured data that helps search engines better understand your content. By implementing schema markup, you can potentially increase your website's visibility in SERPs and enhance its overall SEO performance.
19) Check that all important pages are indexed by Google either by entering site:yourdomainname.xyz in Google search bar or under "URL inspection" in Google Search Console, where you can directly submit a specific or new webpage to Google to index it.
20) Merge your site with Google Analytics and Google Search Console. Here is why this is important:
Assessing and interpreting website traffic: Google Analytics bestows comprehensive knowledge about your website's traffic, including visitor count, demographics, and the gadgets employed to access your site. This information helps you recognize patterns and refine your content for your target audience, thus augmenting your on-page SEO initiatives.
Comprehending user engagement: Google Analytics supplies data regarding user engagement, such as bounce rates, duration on site, and pages per session. By scrutinizing this information, you can pinpoint areas needing enhancement and apply necessary modifications to your content and site structure to boost user experience and retention.
Monitoring goal achievements: Utilizing Google Analytics, you can establish and monitor conversions like form completions or online transactions. This data enables you to gauge the efficacy of your on-page SEO tactics in generating desired results.
Addressing and rectifying technical complications: Google Search Console permits you to oversee your website's well-being, including any technical complications like crawl errors or malfunctioning links. Tackling these issues is vital for on-page SEO, as they can adversely influence your website's visibility and ranking in search engine results.
Regulating indexing and crawling: Google Search Console allows you to submit sitemaps, seek indexing, and observe your website's crawl status. These capabilities guarantee that search engines can effectively crawl and index your site's content, which is indispensable for on-page SEO.
Uncovering keywords and search terms: Google Search Console reveals information about the keywords and search terms users utilize to discover your website. This data can assist you in optimizing your content by integrating pertinent keywords and enhancing your on-page SEO.
Analyzing search performance: Google Search Console delivers insights into your website's search performance, such as impressions, clicks, and average ranking positions. By examining this data, you can discern areas where your on-page SEO endeavors are successful and those needing improvement.
You can DOWNLOAD the ONPAGE SEO CHECKLIST for free HERE.
Mastering OnPage SEO requires a thorough understanding of various elements, from keyword research to content optimization. Implement these tips and watch your website's visibility soar to new heights in the competitive world of digital marketing. A comprehensive OnPage optimization is a must in any search engine optimization and can already lead to better Google rankings on its own.
Check Your Website's SEO grade for free!
If you need help with OnPage SEO, don't hesitate to contact us and let us onpage optimize your website step-by-step.

Related: Everything web design agencies and advertising agencies should know about SEO consulting and SEO coaching in 2023
OffPage SEO
Last but not least: OnPage SEO is extremely important, but you should keep in mind that especially in competitive niches, Google page 1 rankings are almost unimaginable without high-quality backlinks, that is without link building (OffPage SEO).
In fact, backlinks from "strong" websites often have a much stronger effect than any OnPage measures. An OnPage optimization (OnPage SEO) without a subsequent OffPage optimization (link building) therefore always has only a limited effect. As specialists for OffPage SEO, we can also support you in this area.
Get in contact for free advice!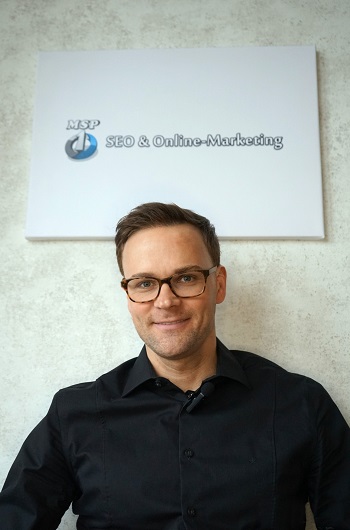 Boris Alexeev, M.A.
SEO specialist with 20 years of experience