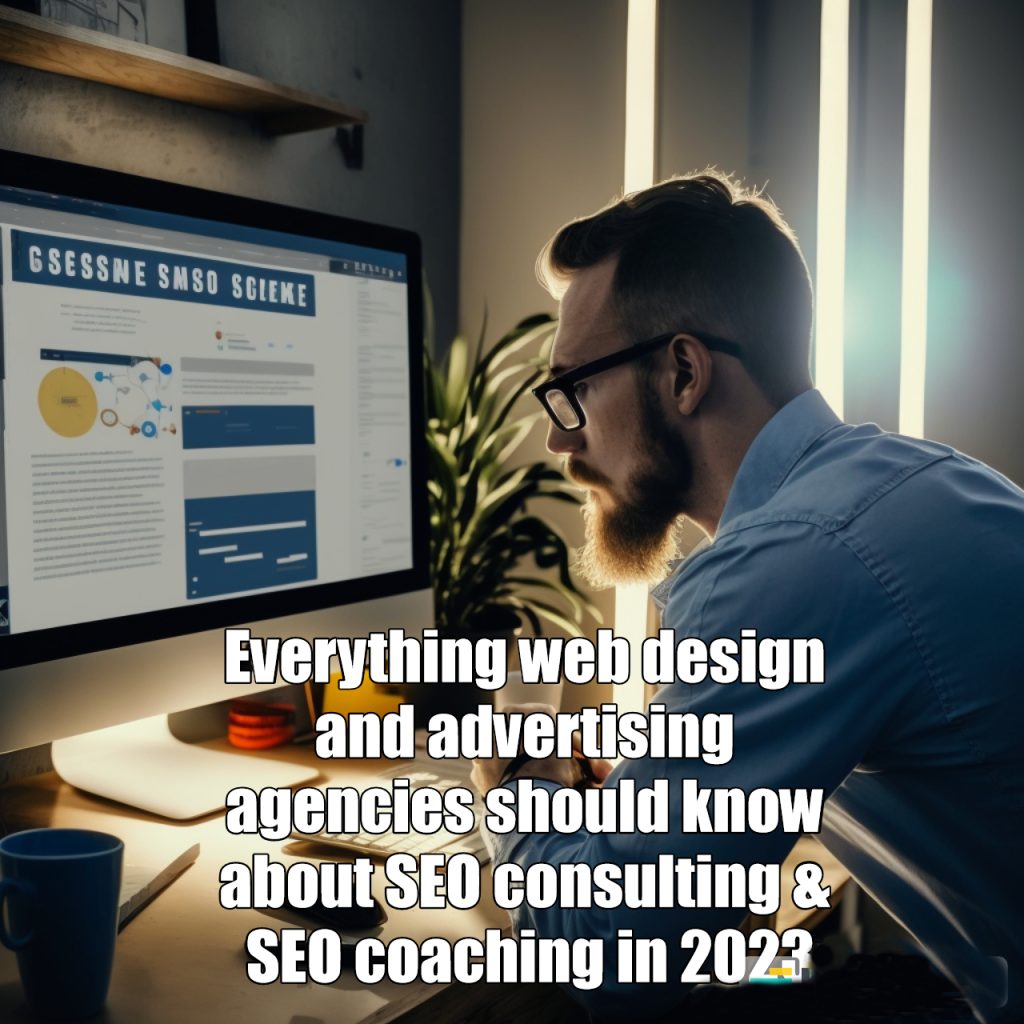 Improving Google rankings is a proven method for web design and advertising agencies to acquire new customers. Since only a few marketing managers have the necessary know-how in the field of search engine optimization (SEO), more and more agencies are opting for SEO consulting.
In this guide, you will learn about the benefits of SEO coaching and how it can help you acquire more customers.
At the same time, we show why web design and advertising agencies that do not yet offer search engine optimization to their clients should add SEO to their offering and how an SEO coach can help with this.
How does SEO consulting work?
The goal of a Search Engine Optimization Consulting (SEO Consulting) is to enable the client to improve his search engine positions. The SEO consultant develops strategies for the optimization of the website (SEO Strategy Consulting) and supervises the implementation of the measures.
Of course, these can also be carried out by the client himself – but this requires a high level of technical knowledge and a certain routine in dealing with Google. In other words, how successfully the measures can be implemented depends heavily on the customer's prior knowledge. Those who prefer to concentrate on their core business are well advised to outsource the SEO work.
If you look around the market, you will find that there are many SEO consultants who do not belong to any agency but act alone. The alternative to an SEO specialist is an SEO agency that mainly optimizes websites and does consulting work on the side. Many companies decide to cooperate with the agency after the initial coaching – so both sides benefit.
Difference between SEO Consulting and SEO Coaching
An SEO consulting usually takes place over a shorter period of time than an SEO coaching. An SEO coaching aims at a more long-term goal – where the customer is fully and comprehensively supported by the SEO coach and accompanied until the goal is achieved. SEO consulting is usually less comprehensive – where usually quite specific questions are clarified.
SEO consultant or SEO agency?
A good SEO consultant or SEO consultant can quickly bring an advertising or web design agency to the front in the search engines. However, the problem arises that experienced SEO consultants are often fully booked. A certain lead time must therefore be planned. If advice is needed at short notice, one is often forced to look elsewhere.
Another point that possibly speaks against the engagement of an SEO consultant: The proposed measures and strategies must be put into practice by one's own hands. On the other hand, web design and advertising agencies can acquire their own skills if they implement the SEO consultant's recommendations themselves. Thus, this apparent disadvantage can become a long-term advantage.
SEO agencies are almost always available immediately – so you can start with search engine optimization right away. SEO coaching today mostly takes place online – whether via Skype, Zoom, Google Meet or Whatsapp. The implementation of the measures is done by the employees of the SEO agency, so that the customer has to deal only little with the subject.
A small disadvantage is that SEO agencies often work with long-term contracts. These usually have a term of one to two years. In principle, it is possible to book a one-time SEO coaching with an agency – but experience shows that the agency will do everything to persuade the customer to enter into a long-term cooperation.
An SEO SEM consultant, on the other hand, does not aim for a longer cooperation, as his main business is consulting and not optimization.
Definition of business goals
Every website has individual business goals – this is no different for advertising and web design agencies. The focus is usually on gaining new customers. Other goals include strengthening market presence, increasing brand awareness or communicating with the target group.
In order to obtain a basis for further activities, the entrepreneurial goals are defined during every SEO coaching. Among the questions that are clarified during an SEO consultation are the following:
Is there already an SEO strategy?
What has been done so far in the field of SEO?
Which target group does the company want to reach?
What is the competitive situation?
After clarifying the goals and defining the target groups, the SEO consultant develops a customized optimization concept that is tailored to the client's ideas.
How a website optimization proceeds
At the beginning of the optimization there is a comprehensive SEO analysis. Thereby the actual state of the website is scrutinized:
How well or poorly is the website already optimized for Google?
How high is the current visitor volume?
How strong is the competition on Google for the target keywords? (Are rankings for these keywords realistic at all?)
How does the backlink profile (for more details see section OffPage SEO) of the website look like? (How many and which websites link to the web presence?)
Who exactly are the desired customers?
    These and many other questions need to be answered during the SEO analysis.
As part of the SEO consultation, it is checked whether the website meets the current requirements for search engine friendliness and visitor benefit. If this is not the case, the previously identified weaknesses are corrected on request.
Often, the SEO specialist who is to optimize a website starts from scratch – that is, if the website is not optimized for search engines at all and has few to no backlinks (see section SEO Backlinks). In such cases, website owners need to be more patient.
SEO keywords: The key to higher visitor numbers
An important part of SEO consulting is keyword research. This involves determining search terms (+ number of search queries per month on Google) that are entered by potential customers in search engines.
Of central importance is the purchase intention. An example: Someone who wants to learn how to play tennis usually enters terms like "tennis coach Cologne" or "tennis school Cologne" into the search engine. The general term "tennis" leads the searcher to websites that explain the principle of the game, but do not contain any offers from tennis instructors. In addition, it is extremely difficult to rank for such general keywords.
There are several free tools available on the Internet, such as MOZ Keyword Explorer, which can be used to determine SEO keywords. You can find an overview of free SEO tools in this video:
Two areas of SEO: Onpage and Offpage Optimization
SEO consulting focuses on the two main areas of search engine optimization – onpage and offpage optimization. What each area is about, we explain in the following sections.
Onpage optimization
Onpage optimization is the focus of every SEO Consulting – and for good reason: Onpage SEO is the heart of search engine optimization. Without a well-optimized website, it is nowadays almost impossible to get on the first page of Google search results and to establish oneself there.
In the field of OnPage SEO fall all measures that are carried out directly on the website. This includes for example:
Adjustment of title tags and meta descriptions
Search engine friendly URLs
Checking the internal link structure
Security of the website (HTTPS)
Loading time of the website (an official Google ranking factor)
Readability for the Google crawler
Optimization of mobile display
Ideally, the website should have responsive design. "Responsive" means that the page automatically adapts to the screen size used. In this way, the content is optimally displayed on every end device.
This increases the dwell time (time on site), which is ultimately reflected in higher sales figures or more contracts concluded.
One of the most important points of OnPage optimization, however, is the creation of keyword-optimized texts for the individual target keywords for new landing pages.
When OnPage optimization is complete, the SEO professional starts with link building (OffPage optimization) – the most difficult and most neglected area of search engine optimization.
Offpage Optimization
Under the term "Offpage SEO" all SEO measures are summarized, which are carried out outside of the own website. Particularly worth mentioning is the building of backlinks to external sites.
Also of importance are mentions in social networks (social signals) and so-called local citations (mentions of the company name and address without a link to the website), which are relevant in the area of local SEO.
Increasing visibility through SEO backlinks
The search algorithm, on the basis of which the Google ranking is calculated, consists of over 250 individual factors. In addition to "quality content" (content), the so-called backlinks (hereinafter referred to as SEO backlinks) are by far the most important Google ranking factor.
These are links on external websites that lead to one's own page.
As far as the building of backlinks is concerned, a significant change has taken place in recent years. Whereas in the past it was more about the number of links, today the reputation of the linking pages is in the foreground. The motto is quality instead of quality, although quantity of course still plays an important role.
Profile links, social bookmark links, comment links, links on link farm sites – the fact that all these link variants are rather pointless today and can even do harm is unknown even to many (supposed) SEO experts. Therefore, one should be very careful here and leave this task to a real SEO professional.
In order to prevent the client from generating "bad" links that harm his site, this point is specifically pointed out in an SEO consultation. Links from reputable websites with high authority ("Trust") increase the reputation of their own page and strengthen the Google ranking.
Apart from that, SEO backlinks also ensure a higher volume of visitors as a result of better Google rankings. This causes an increase in sales and at the same time increases the awareness of the website.
In addition, traffic has an influence on SEO. Therefore, every professional SEO consultant tries to strengthen the link profile of the customer's website and in this way achieve an increase in Google ranking.
SEO consulting and SEO coaching for web design and advertising agencies
Only very few web design and advertising agencies have their own SEO department. Most employees have at best rudimentary knowledge about SEO keywords, search algorithms and ranking factors.
If the client decides to maintain the site on their own, it is advisable to provide SEO coaching for the staff. An experienced senior SEO consultant knows how to explain complicated issues in a simple way and get employees interested in the topic of SEO. Good SEO consulting thus motivates to independently put into action what they have heard.
Linking SEO and SEA
As great as the advantages of search engine optimization are – it can take a little time to get the desired traffic. Supplementary search engine advertising (SEA) can immediately generate visitors interested in buying and bring them to the website. Probably the best-known advertising platform on the Internet is Google Ads (formerly Google AdWords).
An SEO expert can, if desired, set up an advertising campaign in the mentioned search networks at any time. If the expert is a freelance SEO specialist, he or she has competent partners who can take on this task.
Extending SEO coaching to search engine marketing (SEM) makes sense because many clients of advertising/web design agencies want to see immediate results. As indicated earlier, this cannot be achieved with traditional SEO – but it can be achieved with SEM. If the client has a sufficient advertising budget, the SEO can be combined with an SEM campaign.
Through a display campaign on Google Ads, visitors interested in buying can be generated for just a few cents per click. The account holder pays only when someone clicks on the link and comes to the website – this can convince many a customer.
SEO Consulting Costs
What does SEO consulting cost? This question is not easy to answer, as there are different billing models. As a rule, SEO coaching is billed either at a fixed price agreed in advance or per hour.
At first glance, billing per hour seems more attractive. However, the decisive factor is how much working time is calculated. If the hourly quota is exceeded, the costs for such SEO consulting can be higher than for coaching at a fixed price.
In addition to the experience of the SEO agency, the tasks and requirements that come to the SEO experts also play a role.
The advantage of fixed-price SEO coaching is obvious: you have the certainty that the agreed sum will not be exceeded, which simplifies the calculation. The fixed price usually includes a certain scope of services or consulting.
SEO consulting online or on site?
Before the Corona-related restrictions on public life, it was customary to conduct an SEO consultation on-site. Advertising and web design agencies, however, have always had an inclination to book virtual SEO coaching sessions. This is because they are less locally rooted than other businesses. Clients often come from many different regions, sometimes even from different countries – international SEO consulting has long not been uncommon.
Virtual SEO consultations have increased greatly since 2020, which explains the boom of Zoom, Skype, Google Meet, Whatsapp, etc. There are some tangible advantages here. For example, the client does not have to travel (time), which is a good argument for SEO coaching online in this day and age. In addition, there is the cost saving. The content can be easily viewed and shared online.
SEO consulting or SEO coaching – which option is better?
A one-time SEO consultation can be quite useful if you plan to delve into the field of search engine optimization afterwards. As a starting point for one's SEO efforts, a one-time SEO consultation is certainly well suited. It is also possible to book a one-time SEO consultation on a specific topic – be it link building or onpage optimization.
A permanent SEO support or SEO coaching comes into question if there are no SEO-knowledgeable employees in the company and someone has to be trained in a completely new topic.
If a web design or advertising agency wants to offer SEO as an additional service in the future, for example, comprehensive SEO coaching, where questions are answered virtually around the clock and the implementation of what is learned is also monitored, makes more sense than temporary SEO consulting, where usually only specific questions are clarified.
SEO Coaching: How to find a coach?
The most common way to find a specialist for SEO coaching is to search in Google. If you value personal contact, a search query such as "SEO consulting Munich" can provide suitable results. Generally speaking, there are far more SEO consultants to be found in larger cities than in rural areas.
Consulting agencies that can be found on the top ranks of the search engines should be shortlisted in any case. The reason is obvious: anyone who manages to rank high at the top for a highly contested search term such as "SEO consultant" or "SEO coaching" knows their craft.
Personal recommendations can also point web design and advertising agencies in the direction of a good consulting firm. If a friendly agency has already done SEO coaching and had good experiences, there is nothing to stop them from booking this consultant.
Ratings from other customers are also informative. In the first place here are the Google ratings. A high average rating in conjunction with favorable reviews is practically a guarantee that it is a good SEO consultant – in other words: a proven SEO professional. Many SEO specialists can also be found on platforms like UpWork, where you can also read reviews from former customers.
Why SEO consulting pays off for advertising and web design agencies
There are two main reasons why advertising and web design agencies book SEO coaching. On the one hand, the companies want to achieve better visibility on the web and subsequently a higher search engine position.
On the other hand, SEO consulting is intended to expand existing knowledge about search engine optimization – possibly in order to offer SEO independently to their own customers as a service.
How much SEO know-how is already available depends on the respective agency and its orientation. Web design agencies are often assumed to not only create websites and online stores, but also to bring them to the front in search engines.
However, practice shows that this expectation is rarely fulfilled. Most web agencies refer the client to an SEO agency after the job is done or outsource the optimization, which complicates the work processes and communication between the parties involved.
From this point of view, it is worth booking an SEO consultancy. A good SEO SEM consultant can act as a kind of "door opener" and open up an additional field of business for the web design agency. Web agencies that offer a complete package of design and SEO/SEM have the best prospects in the highly competitive online market.
SEO coaching can also be of great benefit to classic advertising agencies. Today, a comprehensive advertising campaign also includes a placement in the online area, as potential buyers use the Internet as their preferred source of information.
In many industries, it has long been true that only those who are visible online still have a chance of being noticed by the target group. Agencies therefore have little choice but to get involved in SEO.
Compared to conventional advertising agencies, web design agencies have a small starting advantage because they already have technical knowledge. For example, technical optimization measures (e.g. the correct naming of images or link structures) can be implemented quickly. There is at least rudimentary knowledge about the basic principles of SEO, so that the SEO consultant usually does not have to start from scratch – SEO consulting B2B can therefore be very effective.
For classic advertising agencies, the starting position is somewhat different. However, even though the existing technical knowledge is lower, those responsible can usually quickly get to grips with SEO. The more intensively one deals with the matter, the faster one's own competencies can be built up. Over time, one develops an understanding of SEO topics such as ranking factors or mobile optimization.
In addition, there is the great advantage that advertising agencies can gear their campaigns to the requirements of SEO from the very beginning. Already in the conception phase, mistakes can be avoided that could have a negative impact on visibility and search engine rankings.
Conclusion
Web design and advertising agencies can benefit greatly from professional SEO coaching or SEO consulting. Good SEO consulting usually leads to a higher volume of visitors, so that numerous new customers can be acquired in the medium and long term. For agencies that want to offer SEO themselves, SEO Coaching is worthwhile, where the operator/employee learns everything they need to know about search engine optimization.
It is crucial to choose an SEO specialist or SEO coach who is not only well versed in the SEO subject matter, but can also convey it in a way that is understandable and to the point. It is therefore a good idea to get references. A real SEO professional should be able to present at least some completed projects to the customer. Whether to hire an SEO consultant or an SEO agency for SEO coaching is a question that has to be decided individually.
✓ SEO coaching: 3 main reasons for web design agencies & advertising agencies

1. Better visibility
on the Internet through higher positions on Google and thus more visitors and more customers.
2. Aadditional business field. Web agencies that offer a complete package of design/advertising and SEO have the best prospects in the highly competitive online market.

3. Expansion/updating of existing SEO knowledge. SEO changes incredibly fast: what was the common method a year ago can actually hurt today. So if you want to be successful here, you must always keep up to date.
Bonus reason: SEO Coaching is the most effective way to learn and immediately apply SEO. With SEO coaching, even SEO novices (e.g. employees without SEO knowledge) are comprehensively supported by the SEO coach and accompanied until the goal is reached (independent optimization of websites). In addition, an experienced SEO coach can explain complicated terms simply and motivate employees for the topic of SEO.
If you are interested in SEO consulting or SEO coaching, contact us now for a short, free and non-binding initial consultation.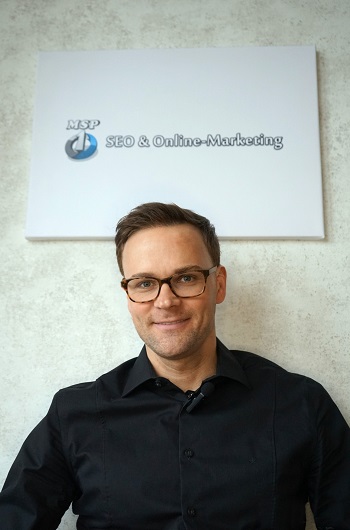 Boris Alexeev, M.A.
SEO coach with 20 years of experience


Download Infographic as a PDF here.